Motivational Nuggets Audio Pep Talks Will Inspire Your Team
As a teacher, when I would share new information with my students, I often began with a brief and entertaining explanation of how important it is to have good note taking skills. 
I explained to them that once, after weeks of mining for gold back in 1849 (they soon realized I was exaggerating about my age just a bit), my partner and I loaded up our picks and shovels and a generous truck full of the dirt and gold we had dug out of the mine we were excavating and drove back into town to cash it in and enjoy our reward. 
We were both shocked and disappointed, I continued to explain, when we learned that the bank had no interest in our truckload full of earth.
The bank, I would continue, was not in the business of buying dirt.  They only wanted the gold.  That is exactly why note taking is an important skill – you need to get all the gold, but leave the dirt behind!
Well, when you want to motivate and inspire teams in any organization, the same idea holds true.  Speakers sometimes deliver a truckload of earth to your people, but the most important or relevant information could usually be boiled down into just a few minutes of quality content wrapped around a handful of relevant and memorable examples.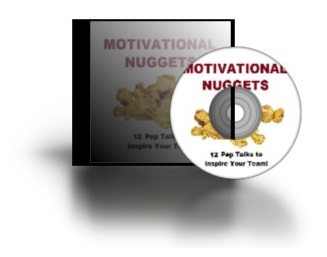 In this collection of 5-7 minute pep talks, I share inspiring stories on the most common topics that
become issues for teams and their leaders.
Each "Motivational Nugget" is a devotional-length audio program that both you and your team can reflect on during your season together.
I encourage you to consider the benefit of sharing these with your team, using them as a discussion starter at team meetings, or as a weekly topic for individual and team leadership development…
---

MOTIVATIONAL NUGGETS!
 TWELVE SHORT PEP TALKS TO INSPIRE YOU… AND YOUR TEAM 
Confidence is built, not bought
Tessellations and team roles
Have bold expectations
Time to get real
Don't ruin the cake mix
Be loyal to your family
Silence is dangerous
Refuse to surrender
Trust your hammer
Keep your foot on the gas
Be somebody – It IS up to you
Appreciate the moment
Looking to improve focus or inspire team leadership in your organization?
Call to book Sean as your next event speaker, and discuss the message you'd like him to customize and deliver to your group!