Stories. Humor. Insights. Sean's keynote talks inspire employees to become teammates.
Watch the video to see how team building speaker Sean Glaze engages and connects your people to help them achieve a new level of personal awareness and commitment.
Engaging Messages That Build Better Teammates… and Team Leaders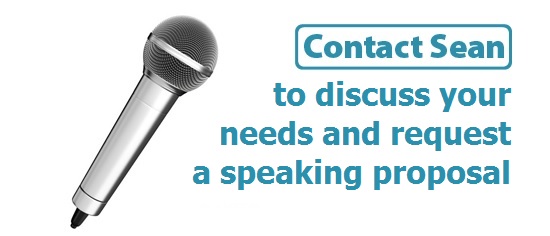 It's not an everyday event. You have an opportunity to connect, inform, and energize your employees.
You want each person to walk away with meaningful insights that will help them become better teammates.
You also want to provide an experience that makes everyone smile and interact together in a way that makes them feel good about themselves and their roles.
When Sean Glaze takes the stage as a teamwork speaker, you'll see people lean forward. That is when you can sit back and relax, knowing you've made the right choice.
"

The comments from participants were overwhelmingly positive!
Your first presentation set the bar high, then you got rave reviews from
our second session attendees as well.  Thanks for a fun and energizing day
with useful take-aways that really helped our people work together better!"
                                                                                                                — Val O'Brien, Southern Company                                                     
How is a Team Building Speaker Different?
Energizes your audience with stories, activities, laughter and take-aways!
When it comes to interacting with our teammates, we all have patterns, and out of habit we often cling to them even when they are unproductive. Even, sometimes, when they make life harder for those around us.
Breaking those old routines and tendencies requires an  engaging catalyst that connects us to others and inspires us to change our habits. Changed behaviors are the result of improved awareness and attitudes… and when perceptions and an understanding of what is possible is altered, people want to change their behaviors to experience better results.
Sean Glaze Inspires Positive Change in Your People.
Sean delivers that special something that encourages people to let down their natural defenses, and begin to truly listen – then take action on – ideas.  People who hear Sean speak don't just remember his stories, they benefit from the laughter and lessons.  
His messages have impact.  And he doesn't deliver canned speeches.
By asking the right questions in advance, and through careful preparation, his entertaining and interactive talks tap into the specific issues that your audience is dealing with…day after day after day. And your people won't just sit there – they'll participate. And learn. And grow.
Some will even discover their leadership potential to help others learn and grow.
It's the Perfect Event Energizer.
Sean is a teamwork speaker who shares entertaining and interactive keynotes that will motivate your people to laugh together, aim a bit higher, and connect more deeply.
They see themselves, and each other, in a different light, rising above their workday frustrations and differences. And they leave thinking about and ready to immediately apply the powerful and practical action steps Sean delivers.
Find a List of Sean's Teamwork Keynote Topics Below!  
Determine which message is perfect for your people, then contact Sean to discuss how he can tailor the experience to ensure the impact and outcomes you want to create.

They walk in as a group of co-workers.
They walk out as an engaged and connected team.
Contact Sean about a message for your group. 
Ready to Take The Next Step?