Team Building is Important Because Your Success Starts
with a Shared Vision and a Culture of Teamwork
Prospective clients or event planners often wonder why teambuilding is important.
When working to create a solid and successful culture of teamwork in any organization, there is a need to establish trust among team members.  This begins with learning to communicate effectively and appreciate teammate strengths…
You may have heard of groups enjoying superior success because of concerted team efforts, but have you ever experienced it?
That sense of unity is one of the most powerful feelings you could enjoy, and is available to those who inspire cohesiveness and a commitment to building teamwork through experiential activities. Sean is a team building facilitator – but that title is a bit misleading…  
While a facilitator by definition makes things easier, Sean takes pride in being an Instigator who uses his collection of interactive challenges as a catalyst to inspire conversations. 
Motivational team training workshops that use experiential activities are proven to be the single most effective way to increasing success and group effort, whether it is for your classroom, your business or your athletes. TEAM BUILDING ACTIVITIES are an effective way to reduce stress, improve attitudes and get your group to learn how to work together toward team goals.
Still Wondering Why Team Building is Important?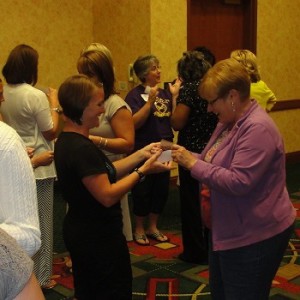 Experiential activities are a proven tool to help your people:
       …adapt to change, 
       …improve attitudes & reduce stress,
       …share laughter and smiles, 
      …build connections that inspire collaboration
Nobody in your organization wants to sit passively through a high-priced guru's lecture or theories about teamwork.  A Great Results event is a unique mixture of hands-on and out-of-your-chair interactive fun, paired with an impactful debriefing session to connect lessons to your specific situation. 
Everyone involved will leave energized with laughter, and will (even more importantly) be able to immediately apply the insights to improve your organizational culture and productivity.
When change occurs in any organization (school administration, office management, or coaching staff) there is always a need to focus on building teamwork and clarifying team goals to build trust and morale that will ultimately help your group reach team goals –
How does improved teamwork affect your bottom-line?
Experiential team building challenges are fun, memorable, and effective tools for quickly improving your team's trust and accountability – they foster relationships and develop leadership skills… and provide a tremendous return on your investment!
Sean has even written an article for you that shares helpful information about team building ROI.
And just for good measure, here are a few research-based quotes:
"Retention increases up to 800% if humor is used when presenting."
– Avner Ziv, Ph.D., Contemporary Educational Psychology.
"Experiential learning is an anchor for cognitive material. Participants have a kinesthetic imprint… because the learning is graphic as it involves physical, mental and behavioral dimensions."
– Dr John Luckner and Reldan Nadler. Sabre Corporate Development
"Organizations that communicate effectively are 4.5x more likely to retain the best people."
-Watson Wyatt, Worldwide Consulting Firm
"U.S. companies lose $3 billion a year to the effects of negative attitudes at work."
-The U. S. Bureau of Labor Statistics
"60% of executives listed lack of collaboration as one of their top leadership challenges."
– American Management Association
"Results of this study indicate that team building activities have a positive effect on group climate, cohesion, and development."
– Stroud, Suzanne, M.S. The Effects of Team Building on Group Climate and Cohesion
"More than 90% of those surveyed cited connection and community as their greatest need."
– McCan Worldgroup, 2011 survey of over 7,000 millennials
A General Electric plant has seen teamwork directly affect it bottom line by reducing costs over 30%.  It has also "shortened delivery cycles from three weeks to three days, and reduced customer complaints by a factor of ten."
 – The Wisdom of Teams, Katzenbach & Smith
School faculty members who were teamed with principals who emphasized collaboration and teamwork in an effort to turn around low-performing schools with disadvantaged populations. Sample results shared by the different schools included successes such as:
 …Student attendance rose from being consistently low to an impressive 98%. 
 …Standardized test scores from 6th-graders went from the 44th percentile to 97th. 
 …Students at or above their math grade level went from under 50% to over 90%. 
 – "Learning in America," PBS Series

Teambuilding is Important for Developing Your People!
TRUST
Trust is a positive assumption based on previous actions, and it is established when team members allow themselves to become vulnerable and accept teammate ideas, remaining committed to achieving the team's identified goal instead of wasting energy protecting egos…
ACCOUNTABILITY
Accountability is claiming ownership and taking initiative to finish a project or fix a problem.  It is important that expectations are published and measured regularly. Team members must recognize the need to connect, encourage, and have tough conversations that include positive conflict to ensure all teammates understand the impact of their actions…