Leadership occurs one conversation at a time…
Looking for a way to initiate crucial conversations with your team?
This is a collection of quotes, commentary, and conversation prompts to help coaches and team leaders draw out group perceptions and ideas that will ultimately acknowledge issues and establish standards.
It is a 15 day program for preseason or season-long discussions that reflect on common team topics, such as accountability, character, recognition, roles, and handling adversity.
The discussion prompts will require around 15-20 minutes of group interaction.
If you are a team leader, this collection of conversation prompts will help you to transform people from simply feeling like employees. When your athletes feel heard and are invested in the team success, you will have created a culture of ownership where communication will lead to achieving your goals.
For less than the cost of a cup of coffee, you can invest in a 15 day team growth program – and the coffee won't inspire your group to reflect on their values and share their thoughts…
(when you purchase the ebook, you will recieve a link
to download the program as a pdf file also)
THE 15 DAY TEAM DISCUSSION CHALLENGE IS AVAILABLE NOW!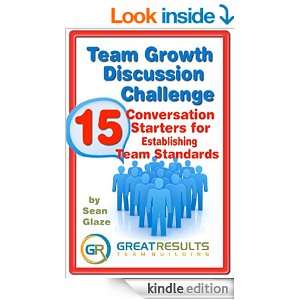 Looking to Improve focus or inspire team leadership in your organization?
Call to book Sean as your next event speaker, and discuss the message 
you'd like him to customize and deliver to your group!