33 Proven Icebreakers and Team Building Activity Ideas!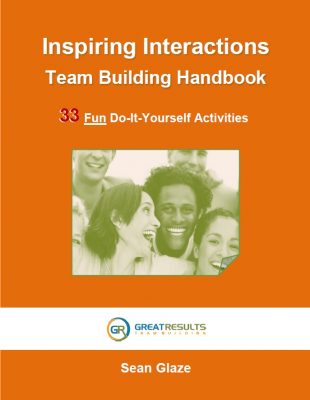 Every organization can benefit from energizing meetings that benefit from healthy trust, morale, and group communications…  But not all meetings are as energizing or as interactive as most managers or leaders would like. 
So how do you inspire more focused conversations and get your people involved and learning more about their teammates problems, passions, and personalities?
How do you improve connections and collaboration?
If you can't afford to bring in a team building trainer to facilitate your next meeting, or if you simply want to maintain the momentum that a fun team building program or keynote has created, you will want to grab your own collection of icebreaker ideas and activities!
Some of the most memorable and impactful activities from Sean's past team building events are included in this powerful Do-It-Yourself Handbook of Team Building Activities.  Take a look, and see how much fun your people can have while getting to know each other better!
And yes – there are a number of "free" team games you can find on the internet, and I would suggest that most of the time you find that people get what they pay for. The majority of those free activities would not be appropriate for most of my clients' needs, and likely are not appropriate for your needs either…
Because I know that your group's meeting time is valuable, every team building activity in this handbook is a something that I have used successfully with great results in the past – and includes instructions to ensure that you have the same enjoyable and positive experience.
Even if you've never conducted an icebreaker or team building activity
before, these step-by-step instructions will make you look like a pro
and transform your next meeting!
My clients have raved about the programs I facilitate to energize their conferences, and many of them have brought me back to work with their people multiple times… but I have also had a number of managers and meeting planners ask if I could provide a resource handbook they could use at weekly or monthly meetings to continue to strengthen connections and inspire collaboration throughout the year.
You can read many of those happy client comments here on my website.
And I have now put together a collection of powerful and easy to conduct team building icebreakers and exercises that are guaranteed to make your meetings more fun – while also inspiring your people to:
         – Build deeper relationships with each other
         – Improve team communication skills
         – Connect departments that seem like "silos"   
         – Identify and benefit from each person's unique talents
         – Think more creatively and collaborate to solve problems
         – Create the engaged and inspired team you dream of
What is Better Teamwork Worth to You?
Professionally facilitated team building programs can cost thousands of dollars… But this handbook, with step-by-step instructions, is yours for an investment of only $79.00
Order Your Handbook of Activites Today!
 64 Pages of Activity Ideas to Energize Your Team –

Available Now!

 
Use one or more of Sean's professional and easy to deliver activities at your next meeting or team event as a fun catalyst for focused conversations and building more productive relationships!
What's Inside the Handbook of Activity Ideas: 
     
     – 33 of my best, professional team building activities, icebreakers, and debriefing ideas
     – Activities for all size groups, ages, and abilities (every team member can participate)
     – Easy step-by-step instructions that anyone can follow and feel comfortable with
     – Handout masters for you to make copies of for your participants
     – Debriefing discussion ideas you can use to make the learning relevant to your situation
     – Recommended goals, required materials, and instruction for what to say & do
     – Professional facilitation secrets that are guaranteed to impact your group
A Brief Description of Some of the Team Building Exercises,
Quick Icebreakers, and Debriefing Ideas You Get:

1. Group pull-ups – a hilarious activity where participants begin by working in pairs to support and "lift" each other, then graduates to groups of four and eight to illustrate the need for working together!  
2. Roles and labels – an enlightening exercise for identifying the power  of perceptions and how we treat others affecting their performance and team contribution
3. Solve my problem – an incredibly powerful icebreaker activity to spur creative thinking, collaboration, and laughter among your team members
4. Draw the line – a simple icebreaker that packs a big punch in illustrating the need to encourage and push your teammates to "reach higher" than they normally would without a leader's high expectations.
5. Magic carpet – a whole group activity that helps people to deal with change, inspire innovation, handle frustrations, and learn to communicate and overcome obstacles as a team!
… and 28 More Great Team Building Activities and Icebreakers to Choose From!
yes, i want a copy!
Inspire Interactions and Energize Your Next Meeting 
Want it Right Now?
Sean's complete collection of professional and proven team building activities, icebreakers, debriefing ideas, and facilitator secrets can be yours in 2 minutes –
If you don't need a printed copy of the team building activity handbook (64 pages) and don't want to WAIT for it to be shipped to your location, you can choose to order the digital version!
The PDF file that you will receive can be  accessed from any computer, tablet, or smart phone!
Once you have the digital version of Sean's handbook, you can access it over and over, whenever you need it!