What if You Could EXTEND
the Positive

IMPACT of Your 

Event
for

Months

after the Experience?
THAT is Exactly Why Sean Created the
WINNING TEAMMATE ACTION TIPS VIDEO SERIES!
Engaging Weekly Reminders to

Impact Behaviors
Want to ensure Sean's teamwork ideas are applied?
Want make those messages even more valuable?
Over the course of 12 weeks, your people will be inspired to recall the ideas that Sean shared (many that they will find in his book), AND get specific suggestions and action tipsfor what they can DO differently to be a better teammate!
CULTURE IS WHAT PEOPLE

REPEATEDLY DO

.
WANT A BETTER TEAM?
DEVELOP BETTER TEAMMATES!
The ideas your people will get from Sean's books and events are terrific – but ideas are useless without ACTION.
And the further in time your people get from our event, the more their motivation will diminish…
BUT if they are reminded and encouraged and inspired to reflect on the ideas – and given easy-to-implement suggestions for HOW they can be a better teammate by reflecting for just a few minutes each week and then doing just a few small things differently – well, THAT can have an incredible influence on interactions and productivity!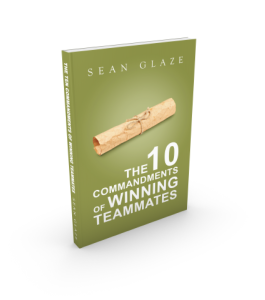 What would improved teamwork and morale be worth to your team?
What would a more positive and productive culture be worth?
What has the lack of communication or accountability or trustor appreciation or engagement cost YOU over the last year in lost hours… or lost people?
   – Want to diminish turnover?
   – Want people to consider how the their behaviors impact co-workers?
   – Want to create a culture of interdependence?
Grow Your Team

With Sean's Entertaining Weekly Action Tips!
These short messages are easily digestible and entertaining reminders of how you and your team can be better teammates.
Each two-minute video is accompanied with reflection questions that will help your people apply the concept based on your specific team situation!
A New Video Each Week to Inspire Winning Behaviors!
Some leaders will decide to have their team experience the video series on their own…
Some leaders will want to include the videos as part of a weekly team meeting where you and your people can discuss the questions that each video will present…
Either way, this series of videos will be a valuable part of your ongoing professional development program… and by inspiring them to turn Sean's team building ideas into behaviors, you will transform your employees into winning teammates!
Video 1 – Welcome and introduction to the series
Video 2 – Claim personal responsibility for results
Video 3 – Prioritize team goals ahead of personal gain
Video 4 – Know your role and contribute your strengths
Video 5 – Respect the clock and the calendar
Video 6 – Do more than is expected with enthusiasm
Video 7 – Be aware of and encourage others
Video 8 – Continue to grow and stay coachable
Video 9 – Frequently share appreciation and thanks
Video 10 – Always give and request clear expectations
Video 11 – Remember to have fun and stay positive
Video 12 – Wrap up and your next play
send me the videos
ACTION TIPS TURN IDEAS INTO

BEHAVIORS!
Available for Individuals and Organizations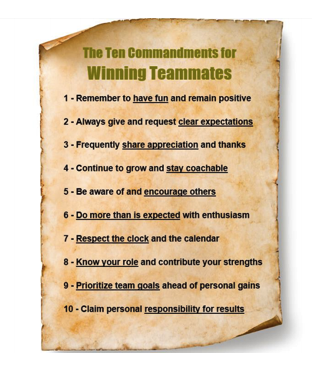 For Individuals
SEAN'S 12-WEEK SERIES OF ENGAGING VIDEOS – DELIVERED DIRECTLY TO
YOUR PERSONAL INBOX, WITH SPECIFIC REFLECTION QUESTIONS…
$79
$39 
ORDER TODAY!
I WANT THESE Videos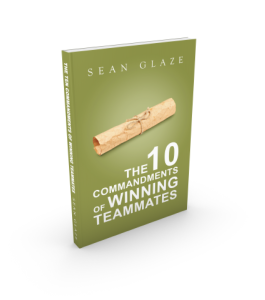 For Organizations
SEAN'S 12 WEEK SERIES OF ENGAGING VIDEOS – DELIVERED DIRECTLY TO
THE PERSONAL INBOX OF EVERYONE ON YOUR TEAM,
ALONG WITH SPECIFIC REFLECTION QUESTIONS TO DISCUSS…
CONTACT SEAN FOR GROUP PRICING
MY TEAM NEEDS THESE VIDEOS