A Fun Tool for Smart Team Leaders to Inspire Interactions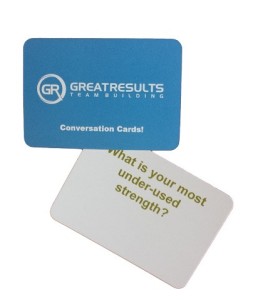 Every organization can benefit from better connections and deeper relationships…
Good teams only become great ones when the people involved are able to learn more about their teammates problems, passions, and personalities!
But how do you make that happen?
How do you improve the likelihood of collaboration and clear communication?
Some of the most memorable moments from the many fun activities Sean facilitates in his team building events are during the Connection Cards conversations- where people "speed date"and have two minutes to share and answer the questions that their cards contain.  
Curious to see how much fun your people can have while getting to know each other better…?
The deck of conversation starters includes questions like:
–  What is the best advice you ever received?
–  What is your most under-used strength?
–  What song title best describes your life right now, & why?
–  What is your most memorable travel experience?
          … and 50 more engaging and entertaining prompts!
Order yourself (and your team) a 54 card pack today!
Use Connection Cards at your next meeting or team event as a catalyst for fun conversations and building rapport!
How to Use Connection Cards: 
You can use Connection Cards virtually anywhere!  
Each pack contains 54 fun and informative questions that are appropriate for any group.  
These are high-quality, colorful, plastic-coated mini-sized cards that you will be able to use (and reuse) for years of laughter and insights with your team.
Here are a couple of options for how to use them:
1) SPEED DATING – (best with 10 or more people)
Give each member of your team a single connection card and have them pair up.  
Set a timer for two or three minutes.
Each pair will share their question and answer the partner's question,
Partners then trade cards and find a new partner and repeat as many times as you like!
2) GO FISH – (best with 2-10 people)
Place all 54 of the Connection Cards in a pile, questions down
Have the group sit in a circle or around a table
Have one person draw a card and answer it out loud to group
Go around the circle one-at-a-time sharing responses to the question drawn 
Whether it is as a brief 10 minute activity at your next meeting, or a monthly opportunity to interact and share interesting answers to questions that otherwise you would not have occasion to ask…
Connection Cards are a fun catalyst for engaging conversations!  

Inspire Conversations With Great Questions –
54 entertaining and interactive question cards for building rapport and deepening connections, designed by Sean Glaze at Great Results Teambuilding.
This is a cool, simple prop that promotes communication and sharing – 
And the more time you invest in this repeatable and enjoyable exercise, the more powerful, productive and playful your group can become!
HAVE SEAN SHARE THIS ACTIVITY LIVE WITH YOUR PEOPLE!
Book Sean as a team building facilitator at your next meeting, and he can 
include this as one of the engaging and impactful parts of your day together!
 Order your pack of Connection Cards!