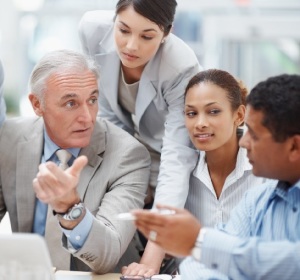 Everyone, at some point, has dealt with difficult teammates who seem to hold onto damaging beliefs or continually sabotage team progress with negative behaviors…
For those individuals that you would like to help change, there are three powerful "F" words that you will find useful in future conversations.
And, yes, all three of them are appropriate to use in any environment…
First, it is important to remember that no matter HOW your teammate behaves, the motivation for that behavior is a perceived payoff of some kind.  The only reason we do anything is that we think it will "fill our bucket" somehow with the attention or consequences we desire.
Second, it is important to remember that unsolicited advice is easily interpreted as an attack, that might cause your teammate to become more defensive than grateful.  Samuel Taylor Coleridge once said that "Advice is like snow – the softer it falls, the longer it dwells upon, and the deeper in sinks into the mind."
If you have ever begun a conversation or introduced a nugget of advice by saying, "You know what you SHOULD do is…," you know that is seldom is successful.
Knowing that, you can help to inspire positive changes in teammate behavior or beliefs using these three words:
FEEL
FELT
FOUND
All wisdom is gained from experience, and the wisest of us are able to gain wisdom from others' experience instead of having to make every mistake for ourselves.
So if you would like to offer a bit of advice, wrap it up in a bit of wisdom and share the following in a future conversation:
"I know how you FEEL.  I FELT the same way.  But what I FOUND was that…"
No matter what the behavior or belief, this short phrasing can open the door for you to share valuable advice without sounding critical or preachy.
Instead of "Shoulding" all over somebody, and creating an uncomfortable distance because they are offended, proud, or spiteful consider the feel, felt, found alternative.
Your teammates will likely be far more willing to apply that wisdom if they feel it was their idea to do so, and they may value it far mre if it is presented in this more palatable way.
Leading your team involves more than just doing the right things.
Often times, it is saying the right things, at the right times, to the right people, that has the greatest impact on team performance!
Do you have a difficult teammate?
Is there someone in your organization who is negative or making poor decisions?
I know how you feel.  I felt the same way.  And what I found was…
these three powerful "F" words.
If your team needs more than just a brief bit of advice, or is you are seeking an engaging and interactive team building speaker or event facilitator to boost your group's morale, productivity, or cohesiveness, please consider contacting me…
And you can also choose to follow Sean on Twitter or connect with Sean on Linkedin, where he will continue to share insights and inspiration to help you lead your team!