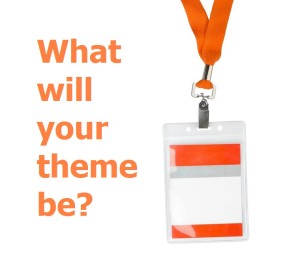 Are you looking for fun conference theme ideas to inspire teamwork in your organization?
If you are planning an annual meeting or event, one of the things you want to decide on early in your planning is a theme that will tie all of your speakers and breakout sessions and activities together under one main message.  
Your speakers will appreciate having some direction when planning their comments, and your people will leave with a more clear and consistent message.
So, as you begin to plan for your next gathering – whether it is for 20 people or 2,000 – consider using one of these top 20 conference theme ideas to help inspire teamwork in your organization!
Teamwork is an Individual Skill                            
Together We CAN!
Be an Amazing Teammate
One Team, One Goal
Championships are Built on Relationships
Stay Coachable
Talent Alone is Never Enough
Building a High-Performance TEAM
Turning Setbacks into a Comebacks
The Impact of ONE
Winners Find a Way
Progress and Pride
Obstacles are Opportunities
Doing Great Things!
The Power of Connection
If it's to be, it's up to ME
Know Your Strengths
Intense Trust Creates Incredible Teams
Sustaining Great Results
Lead From Where You Are
If you are looking for an energizing motivational teamwork keynote, Sean can deliver a message that is customized to your audience.
You can also follow Sean on twitter or to connect with Sean on LinkedIn for additional information, quotes, and teamwork resources…