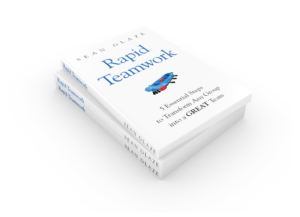 I am excited to announce that my next book, Rapid Teamwork, will officially launch on September 21st, 2015.
For the many fans and followers and friends that I have had the pleasure of connecting with over the last few years, I wanted to offer you the opportunity to pre-order the book and receive a couple of great gifts for doing so.
Rapid Teamwork tells the story of Greg Sharpe, a manager that readers can easily relate to. Greg's team has been underachieving and struggling with a few issues.  What he and his executive team experience during an unusual rafting retreat is a lesson on how to become a more productive team quickly – creating a stronger, more unified workforce.
And if you Pre-Order before SEPTEMBER 1st, and share a review on Amazon or Barnes and Noble, I would like to thank you by sharing a FREE copy of two of my other team leaderhip e-books.
Simply email me when your review is live to get these two special incentives:
2 – A copy of the eBook Sustaining Results (a $4.99 value!)
Rapid Teamwork is an entertaining story where you will discover the five ingredients that all GREAT teams have in common, and will take away tools and ideas to apply those same positive traits to their team culture and transform your stressed employees into truly invested owners.
By applying the insights that Rapid Teamwork shares, you will:
   – gain clarity about the specific steps for building a GREAT team
   – discover the most neglected area of team leadership
   – learn the secret key to inspiring individual accountability
   – harness the influential impact of appreciation
   – experience the profitable power of team unity!
GREAT teamwork is an easy recipe, but if you leave out any of the ingredients, you won't get the results you want… 
Teams struggle because they don't have a process for bringing diverse individuals together as a collaborative team.  This is a story that offers leaders a solution to that all-too-common problem in an easy-to-read and entertaining leadership parable.
Thank you for sharing this with your friends and colleagues and fellow leaders…
I look forward to hearing your review of the book, and encourage you to visit the Rapid Teamwork page to share tweetable quotes and images to help promote the book with your online community!
Again, to get your two free gifts as my thank you for sharing a review, Pre-Order before SEPTEMBER 1st!