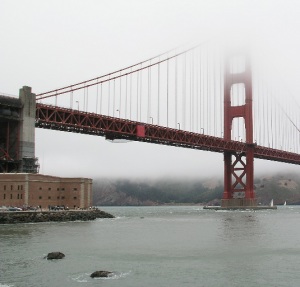 When you think of famous bridges, team building is likely not on your list – but it is truly an essential bridge that needs maintenance to keep the people on your team working effectively together.
What essential bridge did you think of?  Probably either the Golden Gate or the Brooklyn, depending upon which part of the country you live in.
The Golden Gate Bridge connects San Francisco with Marin County to the north. The bridge took seven years to build, and was completed in 1937.  Its famous red-orange color was chosen specifically to help make the bridge more visible in the thick fog that frequently shrouds the area.
The Brooklyn Bridge connects Manhattan and Brooklyn by spanning the East River. At the time it opened in 1883, and for several years afterward, it held the title as the longest suspension bridge in the world.
Bridges connect people and offer a faster route to your destination.  But it is team building and the strengthening of relationships and rapport that is the essential bridge that connects the people on your team and keeps them working well together.
And just like the Golden Gate or the Brooklyn Bridge, the relationships and group morale in your organization is an essential bridge that should be maintained to help people get to their desired destinations!
If the Department of Transportation were to stop working on and neglect the upkeep of the Golden Gate Bridge, allowing it to fall into a state of disrepair, there would undoubtedly be accidents and casualties that eventually would result.
Likewise, the bridges that are built amongst your people must be maintained and given attention, or there will be casualties in your organizational performance!
Consider these three facts:
1. Unhappy employees are expensive! Today's economy is difficult, and smart employers will take action to improve employee relationships, communication, and morale to keep valued employees contributing and invested in their company's success.  Employee turnover is a huge drain on your resources – yet small businesses report employee turnover rates of nearly 70% annually — and it costs over $4,000 to replace and retrain even minimum wage employees.  Team building activities are the bridges that connect people to each other and your organizational goals.  To keep your people happier – and boost morale – you need to invest in relationship "maintenance" events to keep those bridges strong and encourage deeper connections on your team.
2. Unhappy employees are often unengaged workers! If your employees are not invested and engaged as a contributing member of your team, you may lose up one-third of their productivity. If you truly want to increase sales, or keep good customers, or retain valuable people, you MUST ensure they are appreciated and engaged.  Building an essential bridge of trust and team loyalty can help to inspire the ownership and team motivation or buy-in you want to see.
3. A lack of good communication impacts your bottom line. To succeed as an effective team, your people need to communicate clearly and often.
Team building breaks down barriers between individuals, and insights from a team personality types profile can assist in creating more efficient and thoughtful interactions.  Selecting the right team building  event for your organization is an important part of establishing and maintaining the organizational communication you desire.
According to www.goldengatebridge.org, "a revered and rugged group of ironworkers and painters battle wind, sea air and fog, often suspended high above the Golden Gate Strait, to repair corroding steel.  Ironworkers replace corroding steel and rivets, make small fabrications for use on the Bridge, and assist painters with their rigging…  Painters prepare all Bridge surfaces and repaint corroded areas."
No matter how strong a bridge may be when first built, though, their strength is affected by harsh environments and the unexpected stress of storms.
Whether it is the Golden Gate Bridge, the Brooklyn Bridge, or the essential bridge of relationships between the people on your team, it is important to recognize the need to invest time and resources in maintenance to keep the bridge safe and strong.
A fun team building event may provide the team development you need!
You may want to check out Sean's "Sustaining Results" ebook and audio program, for a useful message on how to maintain positive team momentum.
And if you liked this article, consider taking a moment to like Great Results Teambuilding on facebook – and be sure to follow Sean on Twitter also!