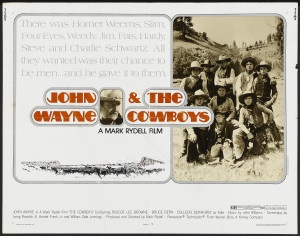 Teamwork movies can inspire a buy-in and an appreciation of concepts or ideas that simply speaking about them could never achieve. 
Part of the reason for teambuilding activities is to have people experience and internalize the teamwork lessons and themes that your group most needs to internalize.
The experience of watching a movie can accomplish a similar type of emotional investment.
Thus, movies have been used for years by great coaches and managers to instill and fortify the ideas or values that they desired to see emulated by their team.
Below is a top ten list of teamwork movies to inspire your team.  They will help to illustrate the powerful qualities of teamwork you want your people to focus on and improve, along with a brief explanation of the specific aspect of teamwork that each of the movies can be used to address:
10.       Glory
– The civil war's first black regiment overcomes prejudice and becomes a cohesive unit.  Based on a true story…
9.         Stand and Deliver
– Story of a high school math teacher and his unquestionably high expectations being met by those who others thought were incapable of succeeding…
8.         Bridge on the River Kwai
– Tale of a WW2 British Commander and his troops who, taken prisoner in Burma, offer lessons on leadership vision, values and the dangers of pride…
7.         Remember the Titans
– Building a team in the wake of change and extreme adversity…
6.         The Dirty Dozen
– Misfits with nothing else to lose learn importance of loyalty, growing closer amid adversity, shared vision, and sticking together with an "us vs. them" mentality…
5.         The Incredibles
– A Disney gem that emphasizes the importance of not denying your talents and working together to achieve success…
4.         Apollo 13
– Riveting film about space program that focuses on decision making, innovation, pressure, lack of resources, meeting deadlines, and risk taking…
3.         The Cowboys (John Wayne)
– Moving account of cattle rancher who leaves his legacy by building a group of callow boys into resourceful leaders that finish the job without him…
2.         The Great Escape
– 250 men escape from a German POW camp in 1944.  Illustrates the need to be resourceful with needed gear and establish specific roles…
1.         Miracle
– inspiring account of true Olympic victory by US Hockey team that shows how a team is developed and proves chemistry and loyalty are as important as talent…
Other Teamwork Movies that received consideration and are worthy of at least an honorable mention include: School of Rock, Oceans 11, A Bug's Life, The Italian Job, Hoosiers, 300, Dodgeball, and Master and Commander…
Interested in sharing clips of teamwork movies?  You can find great clips from movies here on this site.
If you would like to go beyond showing teamwork movies to engage your group in a fun business teambuilding event with activities tailored to your needs, or are looking for an interactive teamwork speaker that will influence your people with memorable insights and take-aways, let's talk!
It would be my pleasure to help you transform your group into a more productive team…