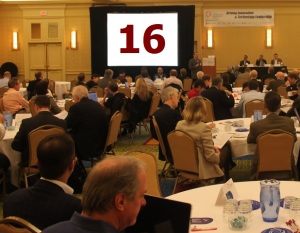 If you are planning an off site meeting or conference, there are a number of retreat ideas that creative and clever event planners can use to make it a more fun and engaging experience for the attendees.
An off-site meeting or retreat offers a tremendous opportunity to create events that help people connect.
Unfortunately, it's also easy to turn these into passive and boring events, instead of creating an experience that inspires the emotional and professional connections that you desire.
Event planners and leaders who plan to take their teams off site  can use the following list of retreat ideas to ensure that the meeting accomplishes the goals of both delivering information AND boosting the morale and cohesiveness of your group.
Here are exactly 16 fun options for you to consider incorporating into your next retreat:
1-       Create a fun and informational dossier about each attendee in advance, including a photo and a shot biography that shares who they are, what they do, and what their current and future goals are.
2-       Never just have your people form a circle and give their name, what they do, and share their favorite kind of vegetable or whatever.   People invariably spend the entire time thinking of what they will say, and not listening to the people around them (this is excruciating with a large group!)
3-       If you want to have them introduce themselves, give them time to prepare and share a questions with them ahead of time, like, "what you are currently working on," or "what is something about our current processes that you would fix," or "what is a great idea you can share with others."  Give each person only 120 seconds to keep it fun and interesting.
4-       Ask each person to suggest a song that represents the organizations goals or mission, and put together a playlist that they can hear each morning and between each session
5-       Schedule breaks and have fun and silly refreshment options available (Twizzlers, anybody?).  Also, never have your people sitting stationary for more than an hour or so.
6-       Give a prize to three or four random people who make it back on time if they can share a memorable moment from the previous hour of discussions or presentations.
7-       Set up a twitter hashtag (#companyretreat2015) for your conference, and invite conversations and questions during and the event to allow for interaction and comments.
8-       Organize round table conversations, with no more than a dozen people at a time that focuses on a specific and relevant topic that your attendees will be interested in or benefit from  (best practices for a specific skill or how to handle certain common issues are terrific topics)
9-       Give attendees the opportunity to build something together, or to work in pairs as part of a silly challenge midway through your afternoon session. The purpose is to keep energy levels high, and to put people in situations that allow them to grow relationships and laugh together.
10-       Invite an expert from a completely unrelated field, like a magician, or poker player, or a juggling expert, to give a short lesson and then follow the demonstration up with a discussion of how it might be seen as a metaphor for something in your organization.
11-       Have fun with name tags and ask attendees to draw a self portrait underneath their name – and be sure their first name is written in large letters that are easy to read.
12-       Use place cards at each table for meals, and ensure that everyone has an opportunity to meet and speak with a variety of people by rotating where people sit.  For each meal, you can also give each table (round tables are best!) a collection of trivia questions, or a problem to solve, or an activity to complete together to inspire their interaction.
13-       Have a fun competition (ice cream eating contest?) after 10 pm.
14-       Have a post-it note message board area for ideas from attendees about improvement
15-       Offer a prize for anyone who collects at least 30 business cards and can write an interesting fact on the back of each one about the person who they got it from.
16-       Take tons of pictures, and then post them for attendees to see both at the event and online afterwards as a reminder of their experiences.
If your goals for the off site meeting or retreat include new and impactful relationships, you will want to incorporate some of these ideas as part of your new and better to-do list!  Sean has a number of engaging and fun conference ideas to team build, connect, and energize your audience – 
And if you are looking for a team building speaker to improve team motivation or add a few powerful and engaging teamwork activities as part of your conference agenda, I encourage you to take a look at my many happy client comments.
If you are looking for a special addition to your list of meeting topics or breakout sessions, you can contact Sean to improve your group morale, energy, and interactions!