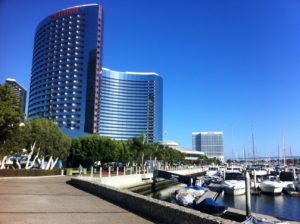 One of the most memorable and enjoyable breakfast experiences I've had while away on business was speaking with front line team members at the San Diego Marriott Grand Marquis. 
I was in town for a speaking event and walked into the hotel restaurant for breakfast, and ended up learning a great deal about what creates a winning culture. 
Phyllis was the first person I met, and during our conversation she shared that she had been an employee there for 12 years.  Phyllis had a warm smile and made sure I was settled into the table I wanted and was sincerely interested in making sure I was comfortable. 
I asked what kept her at the Marriott for 12 years.  What did she like about working there?
She said that "I love working in a beautiful place." Then she added, "But mostly I love working with people that I adore!" 
Phyllis asked for my drink order and then presented the menu to me, and suggested that the buffet was excellent.  I never looked down from her smile, and ordered the buffet.
As I walked over toward the buffet I was greeted by an older man in a starched with uniform standing over an omelet bar.  He said "good morning, sir!" to me, and asked if I would like an omelet.
Of course, I said yes.  He had a great smile, and his nametag said "Philip."
I asked Phillip how long he had been working here, and his answer surprised me.
"26 years, sir!"
So I asked him, in a world where most people work an average of 10 different jobs over a lifetime, what kept him working there for so long?
He flipped my omelet over and asked if I would like cheese. 
I said yes again.
Then he answered my question. "26 years ago when I interviewed for the job, I was impressed by the interviewer.  After asking many other questions, the man who interviewed me finished the interview by asking 'what can I do to help YOU to focus on serving our people?'"
Philip paused, and said – "The thing that he brought me here and kept he here for so long is 'Respect.'"
And even though Philip didn't keep the same boss – even as many of his supervisors grew younger and younger over the years – he said that they always maintained that same respect.  His managers were taught to always listen to his input at Marriott's required weekly and monthly meetings. 
Philip explained that, "They ask us for ideas, they respect us, and they back us up instead of blindly accepting the story of an angry guest."
That is the feeling YOU want people to have in your organization
Phillip wasn't an employee. 
He was an owner.  Turns out that Philip had a goddaughter that he was proud of – and he even told me a story of how he used to run through the land the hotel was built on when it was still a navy lumber yard years and years before.
He was invested and engaged and committed to making his hotel's winning culture look great to every guest he could.
When I returned to my table, I met Abe.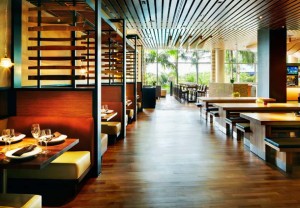 He just stopped by and asked if there was anything at all that I needed or wanted.
It turns out that Abe was my waiter, but he had been busy earlier, which is why Phyllis had taken my order.  Abe was an older gentleman, and to keep with the morning's theme I asked him how long he had been at the Marriott.
"28 years, sir!  I left for a year, and then I came back."
When I asked what brought him back, his answer was quick. "People care about you here.  If you need to take a day off, they understand. As long as you do your job and the guests leave happy, they trust and take care of us. I work with really good people"
Abe shared with me that at 25 years, he got a card that allows him to stay for free at any Marriott property as a sign of appreciation for his loyalty.
Those three people had a tremendous impact on how I remember my stay.
I liked the buffet – it was very good – but the service and the smiles that Phyllis and Philip and Abe provided were outstanding.
They worked eagerly together.  They covered for each other. 
They were positive and pleasant ambassadors.
They were Winning Teammates.
And they didn't only make a great memory for me…
I am confident that their smiles and enthusiasm and sense of service and ownership was shared with dozens of guests that same weekend, and countless thousands over the course of the last many months since I was there.
Every organization wants to have people like that on the front lines… but not every organization is willing to build that culture and treat their people in a way that inspires that type of cheerful loyalty.
Marriott is obviously built on the belief that if you TRUST and RESPECT your people, they will take care of your customers.
One of my favorite quotes is by Henry Stinson, who wrote that "The only way to make a man trustworthy is to trust him."
Does your company do that?
Trust and respect transform employees into owners.
Creating a culture of great teamwork begins at the top, and you see it in the interactions and attitudes of your front line. 
If your company would benefit from a teamwork speaker to emphasize the importance of being winning Teammates, I'd be honored to discuss how I could tailor a message to fit your needs.