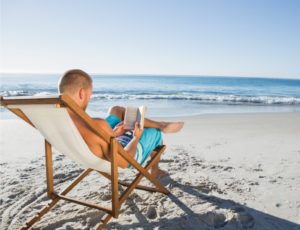 Summer is near.. and that means it is time to find a few leadership books for summer reading…
The idea is a simple and accurate one:
Readers become leaders.
And its converse is an important lesson for those who find themselves in the position to influence and lead others on a team or within an organization: leaders should be readers!
As a teamwork speaker and business team building facilitator, I often am asked after an event what I would suggest as the best books for new leaders to read.
So below, in no particular order, is a list of books I have recommended – the ones I would argue are the 15 essential leadership books to grow new leaders.
Some are well known classics, and others are more recent publications – but if you see one you aren't familiar with, I'd encourage you to click on it and pick up a copy!
1. Crucial Conversations Tools for Talking When Stakes Are High, by Joseph Grenny and Kerry Patterson
This classic book gives you the tools to prepare for high-stakes situations, transform anger and hurt feelings into powerful dialogue, and be persuasive, not abrasive as a communicator.
2. QBQ! The Question Behind the Question, by John G. Miller
This is a book that teaches you to change your questions and provides a method for putting personal accountability into daily action, which can bring astonishing results.
3. How to Win Friends and Influence People, by Dale Carnegie
Another classic written decades ago, the book covers timeless truths for engaging people and earning the right to be heard. Simple lessons in emotional intelligence.
4. Made to Stick: Why Some Ideas Survive and Others Die, by Chip and Dan Heath
This book explains ways to make ideas stickier, such as applying the "Velcro Theory of Memory," and creating "curiosity gaps" to make the important ideas you will share even more memorable.
5. Winning Well: A Manager's Guide to Getting Results, by Karin Hurt and David Dye
This book shares useful ideas on setting aggressive goals – and how to make those goals feel achievable. One of the favorite techniques shared is the use of "confidence bursts"
6. The Feedback Imperative: How to Give Everyday Feedback to Speed Up Your Team's Success, by Anna Carroll
Feedback truly is the breakfast of champions, and this book provides steps for overcoming feedback avoidance and leaping forward with better employee engagement and performance
7. The Seven Habits of Highly Effective People, by Stephen Covey
This incredible and often-quoted book covers seven key habits that successful people in any industry make a conscious effort to apply, and belongs on every leaders shelf.
8. Better Than Before: What I Learned About Making and Breaking Habits, by Gretchen Rubin
Your habits ultimately become your destiny.  This book presents a practical, concrete framework to allow readers to understand their habits—and to change them for good.
9. Dare to Serve: How to Drive Superior Results by Serving Others, by Cheryl Bachelder
Servant leadership is sometimes derided as soft or ineffective, but this book is a practical and useful tool that shows how it's actually challenging and tough minded and creates positive results.
10. Leadership and Self-Deception, by the Arbinger Institute
This is one of the books I recommend most to team members who are beginning their leadership journey. It's a parable about a self-absorbed man who learns to think beyond himself.
11. Lead Positive: What Highly Effective Leaders See, Say, and Do, by Kathryn Cramer
Cramer provides a clear and easy to read playbook for leaders to begin to see possibilities rather than problems, say what will inspire your people, and do things that may now seem uncomfortable.
12 . Lead with a Story: A Guide to Crafting Business Narratives, by Paul Smith
This book is precious because it teaches you how to tell stories that build bridges into the future you desire and how to engage an audience the way logic and bullet points alone never can.
13. The Genius of Opposites: How Introverts and Extroverts Achieve Extraordinary Results Together by Jennifer B. Kahnweiler PhD
Kahnweiler shares a practical five-step process to help introverts and extroverts understand and appreciate each other's wiring, use conflicts to spur creativity, and learn from each other.
14. The Culture Engine: A Framework for Driving Results, Inspiring Your Employees, and Transforming Your Workplace, by S. Chris Edmonds
Edmonds presents the necessary steps to drafting an organizational constitution and clarifying a shared vision to inspire engaged employees who are inspired to be a part of something purposeful.
15. The Go-Giver – A Little Story About a Powerful Business Idea, by Bob Burg
This is a powerful parable about how changing your focus from getting to giving – and putting others' interests first by adding value to their lives – will ultimately lead to more significant success.
And as a bonus, (in the spirit of shameless self-promotion) I would also encourage you to add one other book to your reading list:
16. The 10 Commandments of Winning Teammates, by Sean Glaze
This story's main character benefits from ten essential lessons during his journey to his next job that will inspire you to be a winning teammate – regardless of the industry you work in…

I hope this list of books for new leaders is helpful.
And I am confident that you will see a positive impact on your awareness and effectiveness after reading and applying the ideas in the books above…
I hope you consider growing yourself by picking up at least a few of them.
And after looking over this list (which is certainly not comprehensive), I'd be curious to hear what other books YOU would recommend to new leaders!
Leaders are readers…