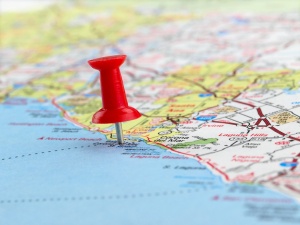 I went to Philadelphia last year when my daughter's volleyball team had a tournament there.
Obviously, it was an impressive and exciting opportunity to see many of our nation's historic landmarks and personally experience and learn about those locations.
When we arrived at the hotel and checked in, the concierge had maps of the city and all of the most popular tourist locations available for free.
As I picked one up and looked over it, though, he mentioned that our group would probably want to take one of the bus tours and have someone guide us and share a lot of information that the map didn't.
At first, I was skeptical and thought that we could follow the map and see what we wanted to see and be fine. 
But I cannot tell you how pleased I am that we invested in a professional tour guide.
The bus we took had a tremendous tour guide, named Laura.  She not only gave us invaluable information and background trivia that we wouldn't have known otherwise, but she made sure that we got where we wanted to go and spent time getting the pictures and memories that our group would be able to take home and appreciate for years to come.
Having a map would have made finding those places possible.
Having a quality tour guide made finding and appreciating those places a reality.
And yes – there is a HUGE chasm of difference between knowing and doing.
A quality tour guide kept us from getting lost and ensured that we reached the destinations we wanted to successfully experience.
If you were considering climbing Mount Everest, you could buy a map of the mountain for under ten dollars.  But if you were really serious about successfully reaching the peak, you would plan to spend at least a thousand times that and get the right gear and the right guide to make the climb.
So why is this important to you and your team?
Well, the single most important ingredient for team success is quality team leadership.
As a team building facilitator, I do two things – I help to build more engaged and connected teams, and I help to build more focused and productive team leaders.
A fun team building event can be a powerful catalyst for strengthening relationships, improving communication, and addressing certain team issues.  But if there is no commitment on the part of the team leadership to maintain that focus on team building and morale and interactions the culture of the organization will not sustain the level of positive productivity that one event provides.
In order for team leaders to reach their destination, they often need more than a map.
A personal executive team leadership coach can provide the guidance and focus that great teams need their leaders to have.  Leaders who are struggling with any team issues, or want to identify their strengths and blind spots, or simply need an accountability partner to ask the right questions and help them and their team climb more effectively and reach their desired destination may want more than just a road map of ideas.
Great leaders know the value of great coaches and the impact one can have.
If you have questions about what to expect from a team leadership coach, contact Sean.
You can also follow Sean on twitter or to connect with Sean on LinkedIn for additional information, quotes, and teamwork resources…