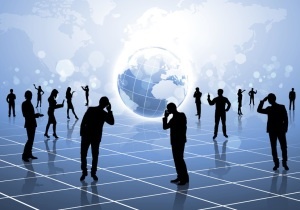 Virtual teams are a terrific solution for organizations to consider in many cases, but they also offer a common problem and challenge to solve.
A study by online project management technology review firm Software Advice surveyed over 600 adults and found that people on virtual teams had very similar perceived issues.
Managing Editor Noel Radley wrote an article discussing the results and the three main take-aways from the study.
Key Takeaways:
  – Thirty-eight percent of team members said communication was difficult on virtual projects, making it the top-cited challenge.
 – Poor communication regarding task management was perceived as the top threat to project success, selected by 41 percent of team members.
 – Email was a preferred channel for 41 percent of respondents—though 23 percent noted long email threads were a communication pitfall.
The study cited communication as the single greatest threat to successful and effective virtual teams, with 38 percent of respondents citing it as their top challenge.
Interestingly, the failure to assign and update tasks (to clarify team roles) ranked as the single greatest perceived problem associated with virtual team communication, and the distant second was simply the problem of dealing with long email threads.
What this clearly suggests for virtual managers and teammates is that many of the same issues that plague connected teams who work in proximity to one another each day also remains a common issue for teams who work remotely from one another.
So what is the answer?
Well, virtual teams are here to stay – and will likely continue to grow in their popularity.
And while that is a change, the truth is that people aren't afraid of change.
People are afraid of the fog of uncertainty that often follows the announcement of change.
So the single most significant contribution most managers can make to the success of their teams, virtual or otherwise, is the gift of clear team expectations and roles.
As I have shared many times in conferences and events, there are two vital ingredients to creating a unified and effective team, regardless of industry.
1. People must be connected to a compelling goal
2. People must be connected to each other  
It is that first item that is apparently lacking in those respondents that were part of the Software Advice Blog survey.  Providing clear roles and helping every team member understand the importance of their part of the puzzle and how it fits with other pieces is an incredibly powerful way to engage them and inspire a sense of value in the work they are doing.
Communication is an issue in every organization, and teamwork is important for success!
There has never been a successful team whose members cried out in frustration that their teammates or bosses were over –communicating!
You can learn more about the importance and impact of your efforts in my book, The 10 Commandments of Winning Teammates…
If you are leading a team that has been successful and want to maintain that momentum, or if you are working with a new team (even a virtual one) and you want to ensure that you do everything you can to build a positive and high-performance  culture, consider the benefits of a business team building event.
Many of the common problems that virtual teams have are found in regular office or project teams as well.  The key is to use information, like this recently published study, as a catalyst that inspires action.
What will you do tomorrow to ensure that your team has clear roles and supportive relationships?
If you have questions about team building, take a look at Sean's FAQ page.
You can also follow Sean on twitter or to connect with Sean on LinkedIn for additional information, quotes, and teamwork resources…