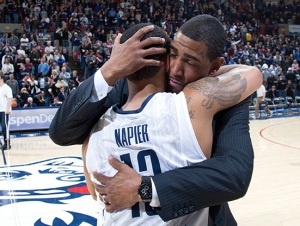 The 2014 men's basketball national championship was a well-documented contrast in team dynamics.
The UConn starting five consisted of two seniors, two juniors, and a sophomore, while Kentucky started five freshmen – most of which likely planned to use the game as a springboard into the NBA draft.
And more than a story of free throws or defensive execution, the game was a story about patience.
The comments that UConn players made following their 60-54 victory were focused on the struggle that they had endured together than anything else.  Their team had been saddled with NCAA sanctions after the 2012 season, and was unable to participate in the 2013 tournament.
One of UConn's seniors, Niels Giffey, said after the win that "it was more important to us to win this game, to go out and bring the program back on top."
His fellow senior starter, point guard Shabazz Napier, shared with an edge to his voice, "this is what happens when you ban us."
His team had proven itself as more patient – both on offense throughout the game, and more importantly, perhaps, for the past year while they were forced to work outside the spotlight of any NCAA post-season.
Julius Caesar is quoted as saying that, "it is easier to find men who will volunteer to die, than to find those who are willing to endure pain with patience."
And it is not only true for basketball players or for Roman soldiers – it is true for us as well.
You and I also find ourselves having to "endure pain" for an unwanted period of time.  That is when our patience and resolve are tested.
For some, the pain of their circumstances is a catalyst that arouses exasperation and destructive actions born of frustration…
But for others – for those who have PATIENCE – the eventual payoff can be tremendous.
On any team, there will be unwanted wait time that you or your teammates must endure.
Maybe you have to wait on a supervisor's signature to okay the next phase of your project.
Maybe you have to wait for a teammate to improve his skills.
Maybe you have to wait for a position to open to finally get that promotion.
Maybe you have to wait for organizational sanctions or suspensions to end.
Or maybe you just have to wait in line at the store.
Regardless of your situation, the key to success is knowing that PATIENCE IS NOT ABOUT WAITING.
We all have to wait – and many do it poorly and unproductively…
Patience on any team is about adopting the right attitudes and actions so that you stay focused on your goal and when your time comes you are ready to perform.
In fact, I would encourage you to begin spelling it: PAATIENCE.
Your Attitude and your Actions determine how successful you will be when the wait is over.
Is your attitude negative and bitter, and causing you to waste time on pouting and complaining? Or, is your attitude positive and productive, leading you to find ways to improve yourself and your surroundings while you wait?
We all have to wait – and not everything happens on our preferred time schedule – but it is what you THINK and what you DO while you wait that shows true patience.
If your team is impatient, or needs help with focus and toughness, perhaps an athletic team building event would be a great investment for your program…
When you  finally do get a chance to step out of anonymity into the spotlight – whether it is onto a basketball court, into a board room, or on any platform – you will want it more… and what you did WHILE you waited will be clear to your audience.
Almost any group requires time to develop and grow together before they become a high-performing team.