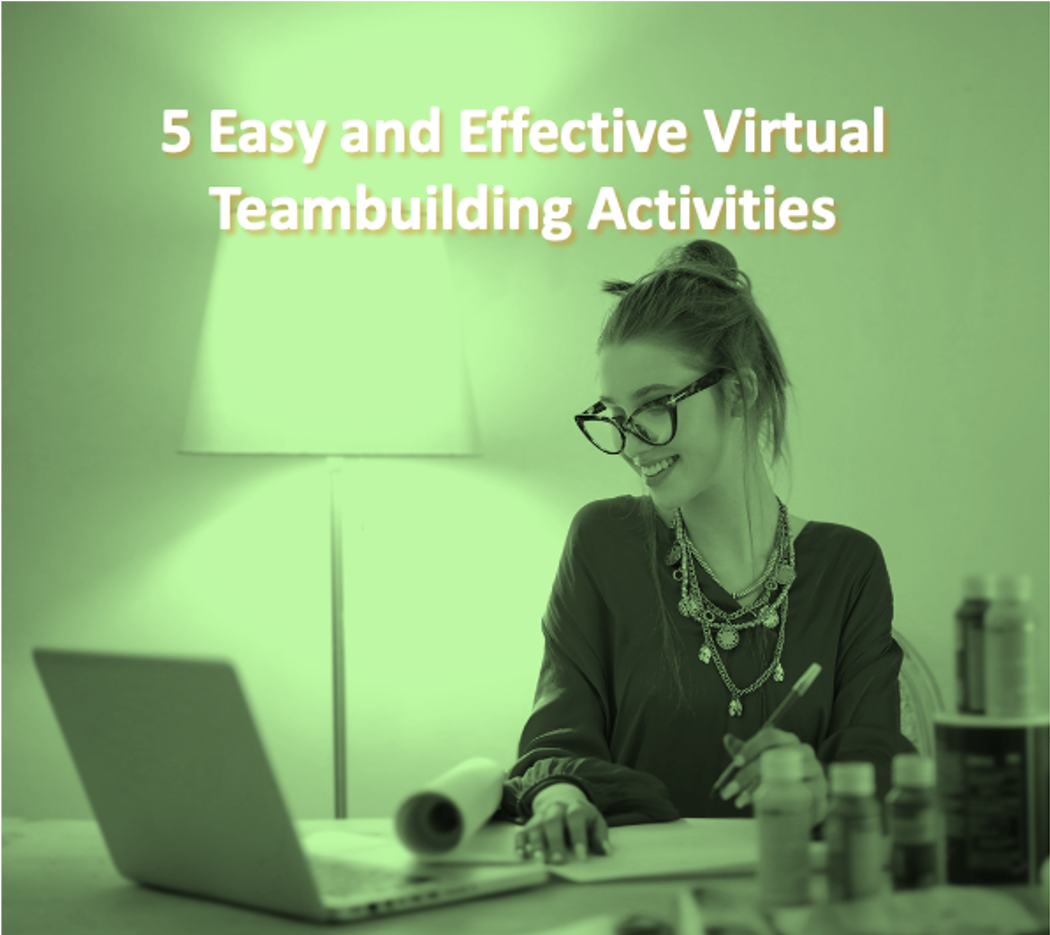 Are you and your team are stuck in quarantine and unable to maintain your daily interactions with each other over the next few weeks?
Are you and your team separated as part of a virtual team that has teammates at different locations permanently?
Are you unable to schedule an in-person teambuilding event and looking for a few virtual teambuilding ideas to help re-connect, re-focus, and re-engage your people?
Then THIS collection of 5 fantastic
teambuilding ideas and tools is for YOU!
And you are likely reading this because you KNOW that high-performing, purposeful, and committed teams do not happen by accident.
GREAT teamwork is ALWAYS the result of a team leader who was intentional about providing time and opportunity to clarify the team goal and to connect with and appreciate the personalities and unique strengths and contributions of its members.
Whether you are part of a school a medical staff, a bank, a construction team, or a non-profit, intentional and consistent attention to team culture is the difference between being good and being GREAT.
Of course, the BEST way to bring your people together is IN PERSON and with a customized program of activities and discussions that present relevant and actionable take-aways that improve your team performance.
The SECOND-BEST option is to use the time and resources you have to focus on those same goals using ZOOM or TEAMS or whatever other technology that allows you to do virtually what you know is important – keeping your people focused and engaged and committed.
To that end, I hope you will find these 5 easy and
effective teambuilding ideas helpful…
At your next scheduled VIRTUAL meeting, plan to invest 15-30 minutes connecting your people with one or more of these terrific activities:
Conversation Cards: One Question, Many Answers
You can purchase a set of 54 Conversation Cards on my website – but whether you are using the stack of fun and engaging questions they provide or coming up with your own list, this is a powerful and funny way to learn more about each other.
Simply ask a question, such as "What is your most memorable travel experience?" and let each person share their response. You'll be surprised how much you find out about the people you work with when you ask them more than "How are you doing?"
Describe "Your Road" to the Team
"The Road" is an essay activity I used when I was still teaching and coaching high school.
I used it to learn about my students and athletes, and you can use it to learn more about your team. Simply have each person write out and share TWO THINGS from their past that were curves in their life that brought them to where they currently are… and then ONE THING they want to accomplish in the next 5 years.
Knowing where people have been, what has affected them, and what they want to move toward is a powerful and memorable way to create connections
Appreciative Examples of Winning Teammates
The book The 10 Commandments of Winning Teammates provides a list of behaviors that help to define what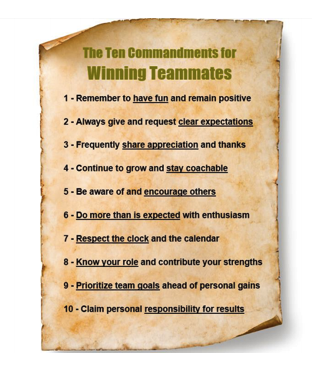 thoughtful, positive, contributing team members DO to demonstrate their commitment to team success.  Have your people share ONE example each of how they have observed a team member living out the commandment and how it impacted them.
If what gets rewarded gets repeated, this is a great way to inspire others to do what the team appreciates seeing as examples of consideration and initiative.
Complaints About Your Current Coworker
Whether for a short time due to unexpected circumstances, or as an everyday situation that we have become accustomed to, working from home – away from our professional team members – presents a challenge. To help bring levity and humor to the experience, ask your people to take a picture and complain about their "current coworker."
Maybe the teammate has a cat, dog, or other pet.  Maybe they have a child they work in the presence of.  Perhaps "Suzy (my dog) is taking a nap at her desk and the snoring is distracting me from this week's reports." Yes, our coworkers affect our mood and our performance – and can be a hilarious excuse for our daily difficulties.  You learn more about their family and circumstances, and everyone gets to enjoy themselves and point at the "bad teammate" they are dealing with ; )
Ask Others Who Share Your Destination to "Solve My Problem…"
One of the keys here is to emphasize that we are ALL still focused on achieving the same outcomes and STILL, despite our circumstances, are committed to the same compelling common goal.  Reminders like that are important. Once you've reminded them of being in the same proverbial boat, it becomes more motivation to offer helpful ideas to teammates.
Simply have each team member share a current issue they are dealing with and want advice or suggested solutions to help them address or move beyond it.  The camaraderie and sense of shared purpose, and the feelings of gratefulness for fresh perspectives and assistance, often go a long way to connecting your teammates and strengthening your collaborative team culture.
AND JUST FOR FUN… HERE'S A BONUS ACTIVITY!
Home Scavenger Hunt [10-15 min] Supplies: None
Directions:
Have participants self-label themselves into 3-4 teams 
Instruct people that they will win by finding various things in their homes.
Scoring can be done as follows:
First team back gets a point, & points come back in descending order
(1st place=3pts, 2nd place=2 pts, 3rd place= 1 pt.)
***Special note: Really consider your list and the fact that not everyone has the same home environment. Be purposeful in having some items on a list that might just require a person to be creative than to have anything around them.
So, that's it – 5 Easy and Effective Teambuilding Activities and Ideas for you to use at your upcoming virtual meeting.
I would love to hear how they worked for you and YOUR team!
If you ant someone to LEAD an customized virtual teambuiding event – so you and your team can re-connect and focus on improving communication and accountability even when you can't meet together in person, I'd love to talk about customizing an online program fo you!
AND – IF YOU HAVE A QUESTION OR ISSUE I CAN HELP WITH, PLEASE EMAIL ME AT sean@greatresultsteambuilding.com 
I AM HERE TO HELP IF I CAN SUPPORT OR ASSIST YOU!!
And if you are interested in a team building speaker for your upcoming conference who can get your people laughing and learning and thinking and connecting in a customized interactive program that everyone will remember – reach out and let's talk about how I can help you to make is a remarkable event.
You can always find a way to connect and engage your team if you are creative.. and there is lots of other technology available that you can use to accomplish the task of maintaining or improving your team culture…
I am passionate about helping team leaders create more engaged and connected teams!