WINNING PHRASES

VIDEO SERIES:
"WHAT TO SAY TO YOUR TEAM
TO BUILD A CHAMPIONSHIP CULTURE"
Every Great Team has Winning Phrases – a special vocabulary or collection of things people say to themselves and each other that define what is important to succeed in their team or organization. 
These are vital to creating shared values and behaviors…
WHY USE WINNING PHRASES?
Every team needs to have a set of important sayings,terms or acronyms that help to set expectations, establish standards of behavior, and ultimately impact your culture.
This not only helps the team to perform at a higher level once the ideas become understood and accepted, but the soon become appreciated when the team members recognized how quickly they can onboard someone and clarify the team's values by sharing those exact same winning phrases with new members.
If you are looking for ONE THING that can help your team become more consistent, more committed, and more clear about what is important and how that translates into behaviors – I challenge you to invest time in implementing winning phrases into your team conversations.  
Create a few signs.  Include them on emails.  
See the impact that they have on your team's performance!
(and if you want to impact your people with a comprehensive system that provides
WANT YOUR TEAM TO HEAR THESE IDEAS AT YOUR NEXT CONFERENCE?
CONTACT SEAN TO BE YOUR TEAMWORK SPEAKER!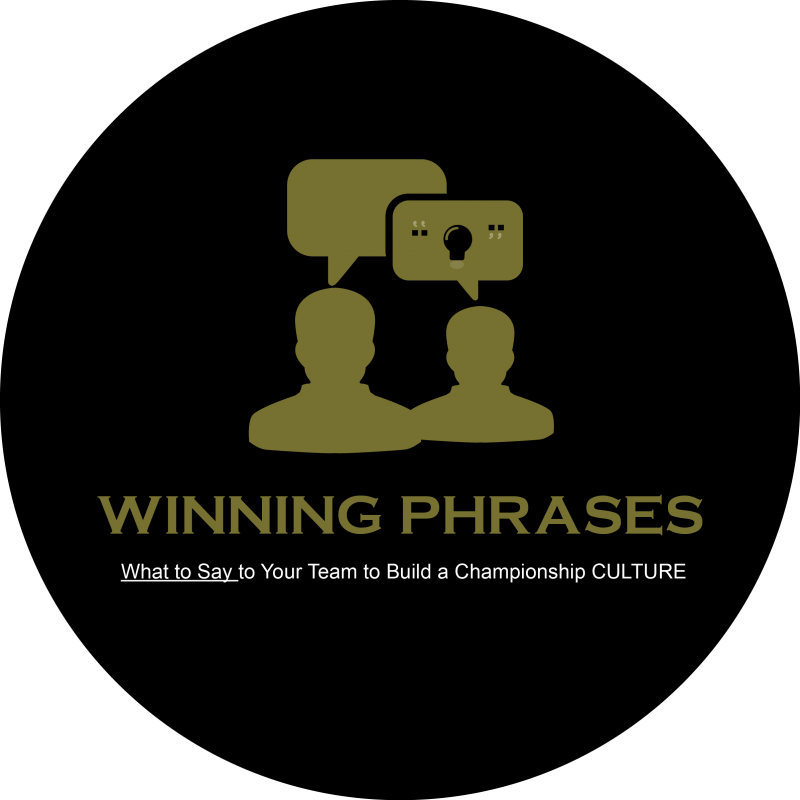 QUESTIONS TO CONSIDER

:
Whether you currently have a set of phrases that your organization uses or not, here are a few 
powerful questions to consider as personal self-reflection or as conversation starters for your team to discuss…
1. DOES YOUR TEAM HAVE AN EXISTING VOCABULARY OR SET OF KEY PHRASES THAT YOU RELY ON TO BUILD YOUR CULTURE? 
2. WHAT COULD BE ADDED TO YOUR EXISTING PHRASES TO MAKE YOUR TEAM MORE SUCCESSFUL?
3. IF YOUR TEAM DOESN'T HAVE A UNIQUE "VOCABULARY," WHAT ISSUES WOULD YOU NEED TO ADDRESS TO MAKE YOUR TEAMMATES MORE EFFECTIVE AND VALUABLE?
Remember… Winning Teams are the result of Winning Teammates –
What will YOU SAY and DO to make this week a great one?

Sean Glaze
Great Results Team Building