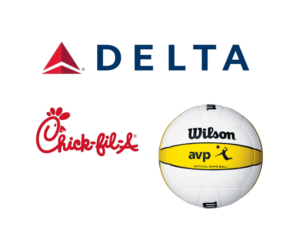 My daughter plays beach volleyball.
So she was very excited when she learned about a week-long camp at Hermosa Beach, in California, that would be run by college coaches.  And she and my wife both think this is a great opportunity for her to get better and build relationships…
But it was expensive.  And it involved travel.  And when I explained this to her and her mother, I was very clear that I didn't think it would be a good idea.
So, you can guess what happened.
That night I registered her for the camp.
I got her airplane tickets so she was on the same flight as a couple of her friends, and for the next two weeks she couldn't think about anything else.
My wife and the other moms arranged the transportation, and I was chosen to pick the girls up at the end of the camp when they got back to Atlanta.
Another girl's mom volunteered to take the girls to the airport – and their flight was scheduled to leave at 7:20 am on a Saturday morning.
So Emily is up and packed and ready to go at 4:30 am.
She can't wait.  This is a kid that you have to wake up 3 times and drag out of bed to go to school – who was up and alert at 4:00 am completely on her own.
So a couple hours later I leave, because I have an event that day, and I am presenting at a conference. 
Twenty minutes before I am supposed to present to the audience, I get a call from my wife.
"Hello?"
"Hey.  You are NOT going to believe this!"  It was her angry voice. 
"What is it, baby?  Is everything okay?"
"YOUR daughter missed her plane!"
Now, the coaches at the camp are supposed to pick up Emily and her two friends at the airport in Los Angeles – they have the flight number and they were going to be her ride to the beach house for the camp.
But she missed the flight… And I was furious. 
So twenty minutes later, I go on and do my best to deliver a great experience for the client – because Emily's volleyball camp and airport drama are not their problem.
Two minutes after I finish, I'm on the phone with my wife.
That's when she tells me what happened:
One of the girls made it onto the flight.  Emily and Hannah missed the plane.
Apparently, they didn't understand the difference between boarding time and departure time. 
The plane was scheduled to depart at 7:20 am.
The girls looked at their phone and decided at 6:55 that they had more than enough time to leave the terminal they were in, go to another terminal, and get breakfast at Chick-fil-A. I know… crazy, right!?
I have since learned that our brains are not fully formed until around age 25… so we'll let that explain her decision.
So they go to the Chick-fil-A, stand in line, and the girl that actually made the flight gets nervous and runs off – she realizes that she needs to get back to make the flight.
My daughter and Hannah wait a little longer, place their order, and wait for their food.
By the time they got back to the terminal, the gate agent had given away their ticket – it was a full flight – and was closing the door to the jet-way.
They begged, pleaded, and started to cry – but once it is closed, the gate agent does not reopen that door.
So Hannah begins crying and Emily is scared. 
I expect that she knew that her dad would be… upset.
So she called her mom, who reminded her of something…
Pouting and complaining don't solve your problems.
Then Emily went to talk to the gate agent.
It was a woman, and she told them there were two more flights to LAX that day – one was at 8:30, the other was at 6:00 pm
They needed to get on the 8:50 flight.  But the gate agent checked, and there was only one seat available.
After a few more tears, the girls made it to the gate where the 8:30 flight would be boarding.  At that gate was a terrific guy whose name is Euphrates.  Euphrates listened to their story, and promised that he would do whatever he could to help them out.
They understood the difference between boarding and departing this time.
He said they had one seat available in first class – but only one would be able to go, so they turned it down and said that they had to travel together…
Then the plane started boarding.
And Emily and Hannah are scared they won't get a seat.
And Euphrates calls out a guy's name on the loud speaker.
And Emily and Hannah got excited.
And as Euphrates called his name again, Emily and Hannah looked around and prayed.
And the guy didn't show up!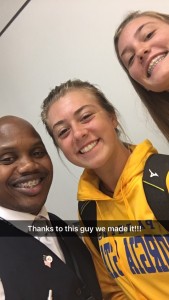 So Euphrates gave Hannah that guy's ticket.  And Emily rode first class.
Here's a picture of the three of them…
They got to the camp and were only a couple hours late.
But the entire week, the coaches refused to call her by her name.
They just called her Chick-fil-A!
Now, as a conference teamwork speaker I learned long ago that you never tell a story without a point… and you never make a point without a story.
So…
HERE ARE A FEW TAKE-AWAY POINTS FROM HER EXPERIENCE:
1  Great organizations reward their helpers
Delta won my loyalty because of Euphrates concern for my daughter.  He is what you want your employees and teammates to be – a helper.  And I made sure to send a thank you note to him and share a letter of thanks with his supervisor as well.
2  It's easy to get distracted from what's important
What is your Chick-fil-A?  What is your flight?  Are you focused enough on your flight to keep from visiting your Chik-fil-A?
3  Sometimes your people are gonna miss their planes.
Everybody will make a bad decision sometime.  Even great teammates drop the ball and make mistakes.  The key is that great leaders (and dads) get over the momentary emotion and anger and remember to love them anyway. 
You will be pleased to know that our daughter did have a great time at the camp.  She got better playing against strong competition, and made it back home safely.
She still plays beach volleyball.
She still loves Chik-fil-A. 
And though she still makes me furious at times, she is a terrific and talented young lady who I am proud of and excited to watch as she continues to grow and improve.
I bet she would like to hear that from me more often.
And I bet your people would like to hear the same thing from you…