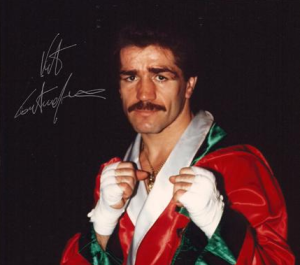 Coach Bill Parcells is well known for having taken struggling organizations and building them into successful teams.
He was without question a solid strategist, but what set him apart was his focus on the individual character and "heart" that championship teams required.
One of the personal binders that Parcells kept in his desk as coach of the Dallas Cowboys had, in the back, the written story of a match between two boxers that Parcells often brought up in conversation.
The contest had taken place in 1977, over 30 years ago, between middleweight fighters Vito Antuofermo and Cyclone Hart. Parcells apparently loved to talk about boxing, and in news articles would explain that a perfect off-season day is to find himself inside a boxing gym somewhere in North Jersey, his boyhood home.
"It's a laboratory," he says. "You get a real feel for human behavior under the strongest duress — under the threat of physical harm."
Boxing, for Parcells, is where you can find examples of men whose lack of heart shows up in their ring behavior.  Quitters, he says, act like they are fighting hard and are trying to win, but have really given up internally.  Parcells says "they've just chosen a way out that's not apparent to the naked eye. They are more concerned with public opinion than the end result."
Parcells was not there to see the fight between Hart and Antuofermo, but it has become a favorite anecdote of his since he heard about it…
A New York Times article told the story of the bout:
Hart was a well-known big puncher heavily favored against the unknown Vito Antuofermo, how Hart knocked Antuofermo all over the ring, how Antuofermo had no apparent physical gifts except "he bled well." "But," Parcells reads, "he had other attributes you couldn't see."
Antuofermo absorbed the punishment dealt out by his natural superior, and he did it so well that Hart became discouraged. In the fifth round, Hart began to tire, not physically but mentally. Seizing on the moment, Antuofermo attacked and delivered a series of quick blows that knocked Hart down, ending the fight.
Parcells calls the next part of the story the "interesting part."
"When the fighters went back to their makeshift locker rooms, only a thin curtain was between them. Hart's room was quiet, but on the other side he could hear Antuofermo's corner men talking about who would take the fighter to the hospital.
Finally he heard Antuofermo say, 'Every time he hit me with that left hook to the body, I was sure I was going to quit. After the second round, I thought if he hit me there again, I'd quit. I thought the same thing after the fourth round. Then he didn't hit me no more.'
"At that moment, Hart began to weep. It was really soft at first. Then harder. He was crying because for the first time he understood that Antuofermo had felt the same way he had and worse. The only thing that separated the guy talking from the guy crying was what they had done. The coward and the hero feel the same emotions. They're both human."
This story, that Parcells shares, is one that can be seen on fields and courts and even office buildings throughout the country.
Winners in life don't suffer less or hurt less than others… they just decide to keep fighting and don't give in to excuses or their feelings.  They answer the bell.
Winners simply have a different response to their circumstances.
Cowards and heroes experience may of the same things, but their experiences or hurts or challenges do not define them.  What determines the outcome of our lives, and your season (or sales numbers, or project) is the response we choose.
Will you allow your feelings to be the excuse that keeps you from finishing your fight?
Share this story with your team…
And if your organization has a conference coming up, consider hiring an inspiring team building speaker to share similar lessons and examples – along with engaging and fun activities to reinforce the message.
Or perhaps your group would enjoy a fun day of laughing together.  Whether it is team building for teachers, or office staff, or athletes, building a cohesive culture that continues to "answer the bell" will help your organization continue fighting for each other even amid adversity…
If you liked this article, you will want to request free access to Sean's Teamwork Toolbox – over 50 useful handouts and activities for smart team leaders!